In 2015 I was a finalist in the drama screenplay category of the Nashville Film Festival! I was the only woman in the category, and though I didn't win, I felt really good about being in the finalists. YAY!ME!
Currently I'm working as the "catch-all" Administrative Assistant at ACORN Clinic (www.acornclinic.org), a wonderful non-profit Medical and Dental Clinic that serves a large rural area of North Central Florida. I love the work, the people, and my job.
I've had plays produced and have won some awards. Most recently my play POWER IN THE BLOOD is being produced at The WriteAct Repertory Theater in Hollywood, California in April 2011. To see a list of the plays that I've written and their synopses on my resume or the plays on the menu.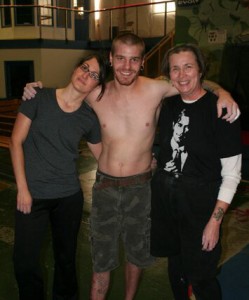 I began rock wall climbing in the summer of 2009. For someone who'd been afraid of heights all her life, it seemed like a crazy thing to try. However, I fell completely in love with the sport and have continued to climb regularly. While I am not a graceful climber, I am fairly strong, and I get great satisfaction from it.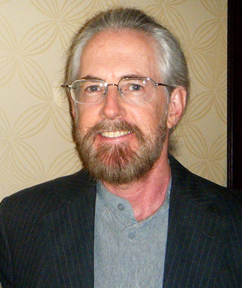 I'm a member of the Gainesville Rock Gym, a terrific facility where the members and the staff have been very welcoming.
I have lived with a fabulous artist named Pat Payne for over 37 years now. His work is in both digital media, photography, and sometimes three dimensional pieces.
In 2009, Pat and I adopted an eight year old dog named Rosie.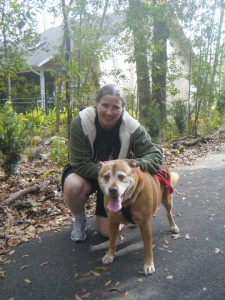 In February 2015, we received the results of a DNA test on Rosie and found out that she is 1/4 Shar Pei, 1/4 French Bull Dog, and has large percentages of Dogue de Bordeaux and Kerry Blue Terrier, and smaller percentages of Samoyed and Shiba Inu, with traces of Novia Scotia Duck Tolling Retriever. Unfortunately we lost her to cancer in April 2015. But she will always be in our hearts.
I've recently added a blog to my website. God knows why, but apparently I have things I think I need to say out loud. Feel free to ignore me!