In 2021 I signed a three book contract with Level Best Books (https://www.levelbestbooks.us/) to write a mystery series set in a fictional North Florida county. BURNING EDEN is the first book of the series and has just been released. The books are police procedurals, with Sheriff Jim Sheppard heading up the stories along with Dr. Ryan Edwards, a physician who has arrived in the county to partner with Dr. Markham, the community's only physician. Anyone who wishes to write to me about the books (or anything else), my email is SarahBewley(no space here)@sarahbewley.com.
Until now I've mostly been known as a playwright, and have numerous productions around the United States, and once in Australia.
In early 2022, I realized that working full-time and writing a book was not in my best interest, so I am in semi-retirement, working half-time at a city job and also doing HR work at The Knot Climbing Gym (https://climbtheknot.com/) in Gainesville, and writing. The rest of the time I watch baseball or ice hockey. I'm a long-time fan of the Tampa Bay Rays and the Tampa Bay Lightning.
I have been rock climbing since 2009, and I started taking boxing lessons in 2014.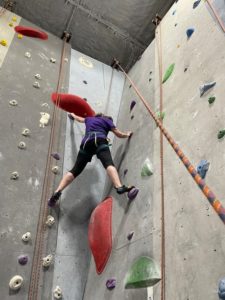 I climb regularly and love to climb in other gyms whenever I get a chance. I've climbed in several gyms around Florida including The Edge in Jacksonville. Outside of Florida I have climbed at Stone Summit Climbing in Atlanta, Georgia, OnSite Rock Gym in Knoxville, Tennessee, and Brooklyn Boulders in New York.
I haven't climbed outdoors in years primarily because there is no outdoor climbing in Florida, and I hate camping. But I will admit that my limited experience in climbing outdoors was fabulous, and that there is nothing that compares to the feeling of real rock.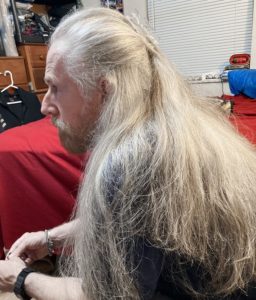 I have lived with a fabulous artist named Pat Payne for over 45 years. His work is in digital media, photography, and sometimes three dimensional pieces. As you can see from his photograph, he is a fine-looking man. Pat is also a cyclist, hiker, and sometimes climbs mountains. He has an outrageous sense of humor and makes me laugh every day.
North Florida is very different from South Florida. We have lots of trees, forests, clear cold springs, lakes and rivers. Gainesville is almost exactly 90 minutes from either coast, so we do not have a beach. I honestly wouldn't want to live anywhere else.
I have a small, limited blog on this site. I started it back in 2015. God knows why, but apparently I have things I think I need to say out loud. I horrify one of my copy editor friends by calling it Thinky Thoughts. It is only updated sporadically, and it is sometimes very personal.